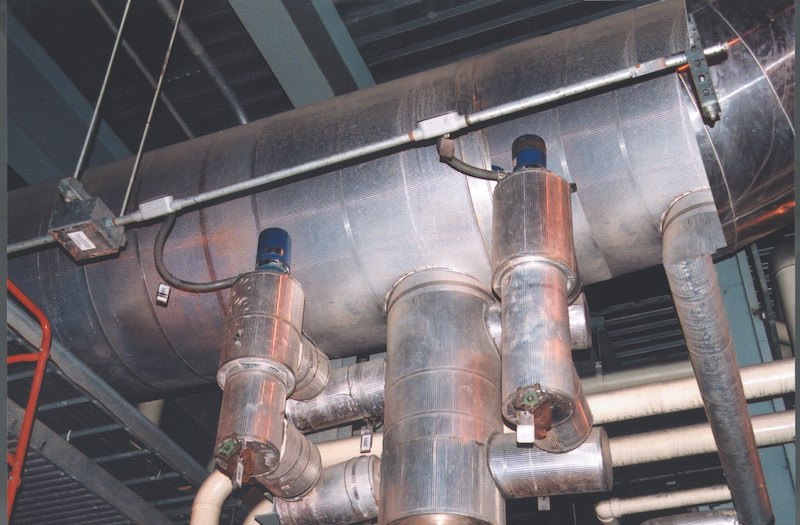 AURORA, IL - Level control of condensate tanks is critical to optimize condensate and waste heat recovery, as well as protect hardware.
Each component of the steam generation and condensate recovery cycle has its own unique challenges and considerations when it comes to selecting level instrumentation. This is especially true when it comes to applications that are intended to keep the rest of the equipment safe, such as condensate drip legs.
Placed along super heated steam lines, condensate drip legs (or drip traps) collect particles of moisture and drain off the accumulated condensate. Employed as a preventative measure against turbine water induction, drip legs can be placed along main steam lines, hot and cold reheats and steam extraction lines. When a level switch senses the upper level in a drip leg, it opens a dump valve to remove the accumulated condensate.
Magnetrol® has produced an applications brochure for the power and utilities industries, detailing measurement challenges and solutions for each step of the steam generation and condensate recovery process. This blog post is part of an occasional series exploring each application in detail.
Level Measurement Challenges and Considerations
If particles of moisture escape condensate collection systems and enter the turbines, significant damage can result. Proper level controls should prevent any moisture from entering the turbine, no matter how small the amount. Level controls used in condensate drip legs must also contend with the high temperatures and pressures associated with these devices. They must be able to provide accurate and reliable measurement despite these challenging conditions.
Level Measurement Solutions
MAGNETROL has produced level measurement solutions for condensate drip legs:
Model B40 float-actuated switch
Model B35 external cage float-actuated switch, ASME B31.1 construction
This article is published by
Magnetrol, a business of AMETEK Inc., is a global leader in level and flow measurement instrumentation. Headquartered in Aurora, Illinois, the company manufactures innovative level and flow instrumentation for a wide range of process market applications. Magnetrol pioneered liquid level instrumentation for industrial applications in 1932 and continues ...