Q&A with Ryan Heffner, Single Use Technology Manager:
EQ: Equilibar's SDO valve is the first complete, wetted single use valve for sanitary applications. Just last year, it won an innovation award from PHARMA Manufacturing magazine. Since the SDO is a relative newcomer, can you give some of the highlights about how it works and how it's being used in pharmaceuticals?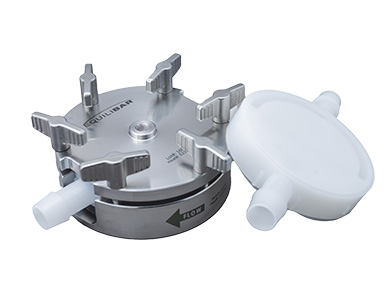 RH: Certainly. The SDO features a disposable valve body made of polymer that can be irradiated and inserted into a stainless-steel support housing with wing nut closure for quick and easy assembly. It works completely differently than traditional valves, with synergistic design features that provide extreme precision, almost instantaneous reaction, frictionless operation, and an exceptionally flexible flow rate range. It is compact, easily automated and can be used for both back pressure control and flow control, which opens up many possibilities. During the past year, I've seen exciting developments from both OEMs and end users who are using our valve in a variety of ways. This includes everything from TFF TMP (tangential flow filtration transmembrane pressure) control to more challenging applications for centrifugation. We are also excited to be working on ways to use the SDO to bring value to buffer preparation and mixing for chromatography.
EQ: In addition to tangential flow filtration and chromatography, the SDO excels in NPSH or net positive suction head. Is that correct? Are you noticing other areas of interest?
RH: NPSH is a great application for the SDO, but the SDO product line has the ability to transform all types of single use systems, with wide-reaching impact for improved performance. Since it is new and its design is so radically different, we're focusing on getting the word out and producing technical content that will help the industry link the SDO's abilities to crucial challenges they are facing. I feel that if we can unlock the SDO's potential, so to speak, many pharmaceutical processes could see substantive system performance improvements once it's adopted.
EQ: Continuous manufacturing/flow chemistry systems are gaining prominence in pharmaceutical manufacturing. Can you elaborate on how that trend relates to the SDO?
RH: There's a variety of start-ups and large established companies alike focusing on continuous manufacturing to improve the produced yield of single use pharmaceutical systems. There's several leading customers working on integration of the SDO valve into a continuous skidded system, which is really the next wave of pharmaceutical manufacturing. It's gratifying to be involved in this innovation and to work with brilliant researchers who are making game-changing improvements with these new technologies.
EQ: From following the news, it seems that the rapid pace of pharmaceutical innovation has not slowed down since it took off during the early days of COVID. What are you noticing in particular?
RH: Yes, the introduction of new pharmaceuticals has certainly continued to accelerate at an unprecedented pace, with certain areas still experiencing extremely rapid development. The Cell and Gene Therapy market, in particular, comes to mind. I have no doubt that Cell and Gene Therapy will continue to bring life-changing new products to patients around the world.
EQ: Can you share some of the highlights to look for at both the INTERPHEX global conference and BioProcess International Europe?
RH:  We have solid teams going to both conferences. For example, at BPI-Europe, Karl Lutkewitte will be representing us.  Karl has been bringing industry-first products to market for more than 30 years and has deep knowledge about all types of pharmaceutical fluid control.
For INTERPHEX, we will have a pretty big group so we'll be able to network and interact freely with visitors. Jennifer Jacober, another Equilibar engineer with expertise in flow control, will be on hand, and I think she will bring an interesting perspective about ways our flow control technology could lead to new strategies to reduce variability in applications such as blending buffers for chromatography.  She is a biomedical engineer and is an expert at explaining our demos so that people can fully understand the radically different way our devices work compared to traditional valves and where that may offer advantages.