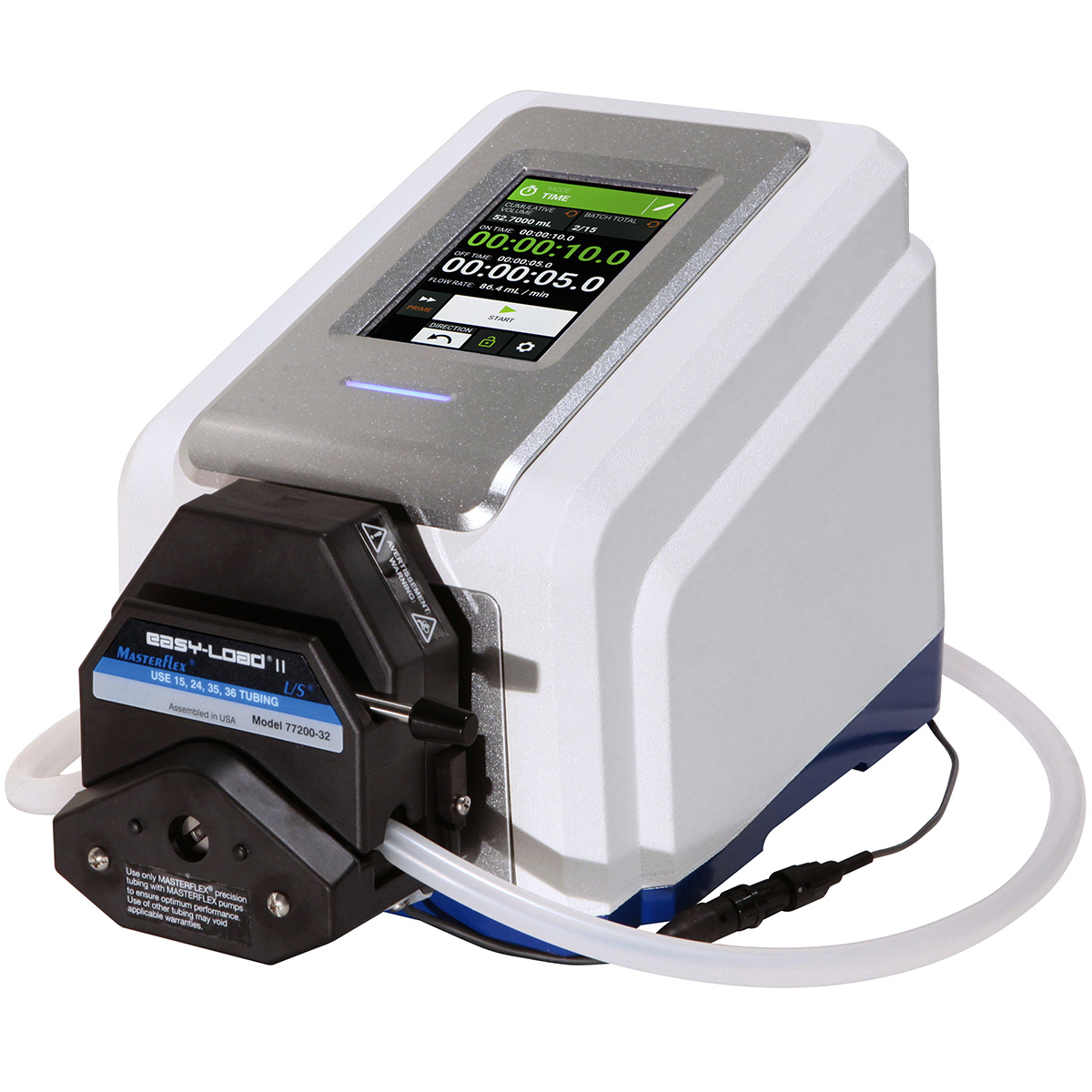 Operate, collaborate, and connect with ease with the new Masterflex® MasterSense™ L/S® peristaltic pump.
Intuitive touch-screen interface, easy programming functionality, innovative forward-looking features, multiple connectivity options, and versatile system components give operators a smarter and easier way to manage fluidic pathways. This pump is ideal for research and process with flow-driven technology that supports precision dispensing. All these features have been designed into a space-saving compact footprint to conserve valuable benchtop space.
Innovative features make fluid handling more efficient. The 5-inch, capacitive touchscreen display is easy to use, even with gloves on. Over-the-air firmware updates allow operators to take full advantage of future enhancements. Three-tier access to pump functionality protects any process by controlling who can operate the pump and at what level, and two-factor security requires a username and password. For a digital protocol to suit automation needs, EtherNet/IP™, Profibus, or analog signal are available. Remote pump capabilities are available with MasterflexLive technology; a secure, cloud-based platform that allows remote control and monitoring of the pump via a PC, tablet, or smartphone (iOS™ and Android™). With MasterflexLive, control all pump parameters, including speed, flow rate, dispense volume, and more in real-time. Get push notifications that alert for operating conditions and pump status.
In addition to the new features, functional features remain at the forefront of every Masterflex product. This versatile pump provides accurate and precise fluid delivery with a broad flow range from 0.001 to 3400 mL/min. Modes include continuous run, volume dispense, and time dispense modes — batch control and interval/off time in Volume and Time modes. Save and retrieve commonly used dispense programs provide rapid setup. Anti-drip and speed ramping are available in Volume dispense mode to ensure accuracy and minimize sample loss. Open-head sensor technology stops the drive motor when the pump head is opened. A brushless, maintenance-free motor provides ±0.1% speed control accuracy with a 6000:1 turndown ratio. Bidirectional flow and self-priming capabilities allow for smooth, seamless operation.
This article is published by
Masterflex® bioprocessing is a leading, global fluidics manufacturer of proprietary products for your complete fluid path—with certifications to help you stay compliant. Along with our wide range of products, from pumps and tubing to flowmeters, and single-use components and assemblies, we are your consultant and partner to help you optimize your ...