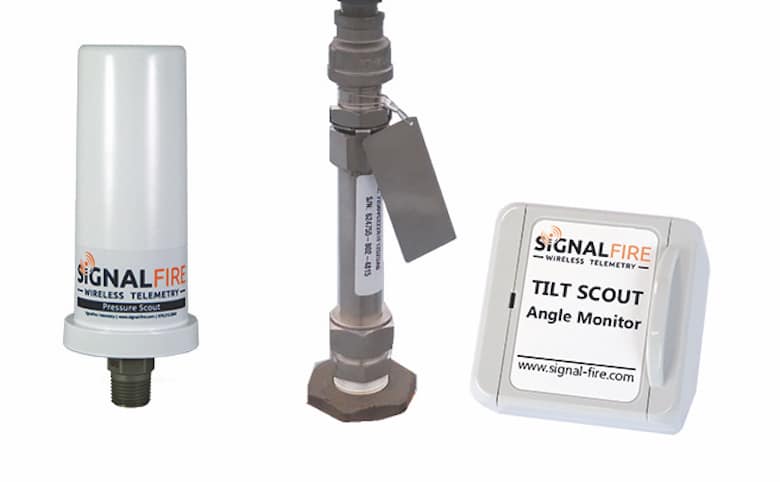 MARLBOROUGH, MA - SignalFire Wireless Telemetry's Tilt Scout for angle measurement is now Class 1, Division 1 approved for operation in hazardous environments.
The latest member of the Scout family of Class 1, Division 1 integrated sensor nodes, the Tilt Scout combines an intrinsically safe wireless inclinometer with a 900mHz radio and antenna and an internal battery pack within a NEMA4X enclosure. The three-axis sensor detects the change in angle (movement) of an asset such as tank hatch position as part of a SignalFire Wireless Telemetry System. Designed for use in outdoor industrial applications, the Tilt Scout is also ideal for monitoring pump jack motion.
SignalFire developed the Scout family of integrated sensor nodes to optimize battery life by integrating the sensor and radio together. Battery-powered, these intrinsically-safe Scout Sensor Nodes operate wirelessly and do not require cabling to external power sources. No other telemetry system provides the versatility, flexibility, and user friendliness in a package that reduces costs and installation time.
Other members of the Scout family include the Pressure Scout that serves as a low-cost alternative to conduit, wired, and other pressure sensor solutions and the Float Scout that offers a complete wireless tank level monitoring solution in oil fields.
This article is published by
SignalFire Wireless Telemetry designs and manufactures wireless telemetry products that interface to industry-standard sensors and communicate to/from a Gateway using SignalFire's wireless mesh network. The equipment is used in long-distance, outdoor wireless communication applications such as those found in oil and gas, agriculture, forestry, water ...