It increases cost savings on a wide range of wastewater applications that require FM approved, explosion-proof pumps.
Tsurumi America Inc. (Tsurumi) has launched the AVANT™ Series, an innovative line of submersible, explosion-proof pumps created to deliver excellent performance and increase cost savings on a wide range of wastewater applications. Released earlier this year in Asia, the new AVANT™ Series now makes its debut in North America, expanding Tsurumi's product offering in the region while meeting the demands of larger projects that require particular specifications.
The new AVANT™ Series was certified in accordance with FM Global explosion-proof specifications to ensure products conform to the highest standards of safety. These pumps feature a modern design and IE3 premium efficiency motors that deliver high performances and withstand continuous duty cycles. They have an exclusive closed-circuit cooling system, utilizing a water-glycol mixture, which prevents contamination of the system while cooling the motor. Additionally, customers will be able to order tailor-made AVANT™ pumps from the factory, with specific configurations that match the demands of their jobs while boosting results. 
"We are very proud to bring the new AVANT™ Series to North America, as these modern, explosion-proof pumps will deliver efficiency and ensure energy savings on a number of projects in the wastewater industry, such as sewage collection from commercial buildings and municipal systems," said Glenn Wieczorek, managing director at Tsurumi. "It's also exciting to give our customers the opportunity to build the exact pump they need: with a specific paint thickness or control panel type, for example, or a trimmed impeller to fit an exact duty point."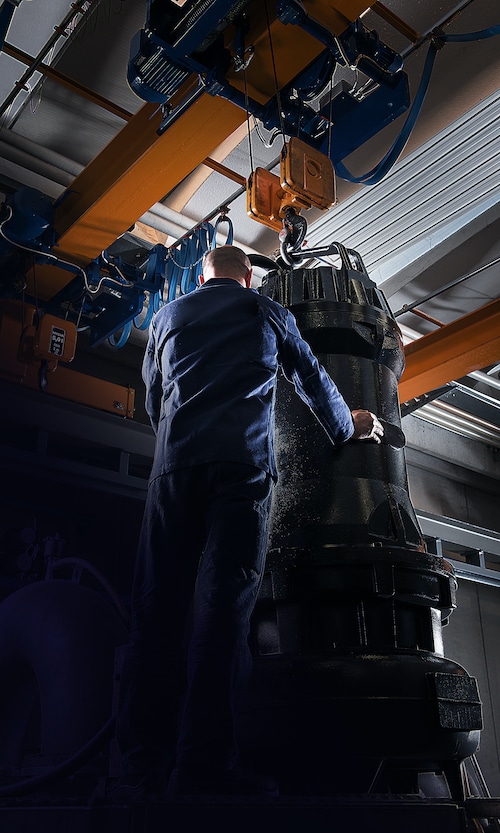 Named MQ, the new line of AVANT™ pumps has five different types of impellers — Open Channel (MQB), Chopper (MQC), Vortex (MQU), Grinder (MQG) and High Head (MQS). It also offers wide ranges of specifications featuring 2 to 16-inch discharge bore diameters and 4 to 215 HP motor output specifications. 
One of the options for this new product line is a new coating material called Molib-tech, which is an alternative to the conventional ceramic coating process and particularly suitable for preventing serious wear due to abrasion or cavitation on impellers, suction flanges and volutes. It applies a layer of high-strength material to the iron, to improve the pump's durability.
Unique cooling system
The new AVANT™ pump series is offered in wet (submersible) and dry pit versions. In the dry pit versions, the motor is cooled by a system exclusive to Tsurumi that uses a water-glycol mix circulating in a special closed loop circuit. An important advantage of the closed system is that it keeps the cooling mix separate from the wastewater in which the pump is immersed. On the AVANT™ pumps, the mechanical seals are installed in an oil chamber separated from the cooling system and can be changed without draining the system.
"If the primary seal on a conventional pump cooling system fails, it can get completely contaminated, which will damage the pump," Wieczorek explained. "The new cooling system on the AVANT™ Series offers an extra layer of protection to the pump, as the glycol mix runs in a different path. That makes the cooling system more reliable and efficient."
Product line expansion
With the launch of the AVANT™ Series, Tsurumi expands its product line in North America while offering the company's first line of explosion-proof pumps, which are designed with the high-quality standards that Tsurumi has been known for over the past century. A leading pump supplier in a number of industries — mining, construction, water feature, wastewater management and more — Tsurumi has developed the new series to meet specific demands for large wastewater projects with reliable, durable equipment and excellent customer support.
"Our new AVANT™ Series has benefited from our experience in other industries, for which we have developed unique solutions and technologies that were applied to this new product line and will ensure our customers' success," Wieczorek said. "The new series has arrived to enhance our product offering and to enable us to work in new types of applications — and that's what we are super excited for!"