Previously NSF certified Asahi/America products include PVC ball, butterfly, gate, labcock and ball check valves. The company's Chem Proline®, Chem Prolok®, Proline®, Pro150, Pro45 and Pro-Vent® industrial piping systems, and PP-Pure® high purity piping system are NSF 61-G certified.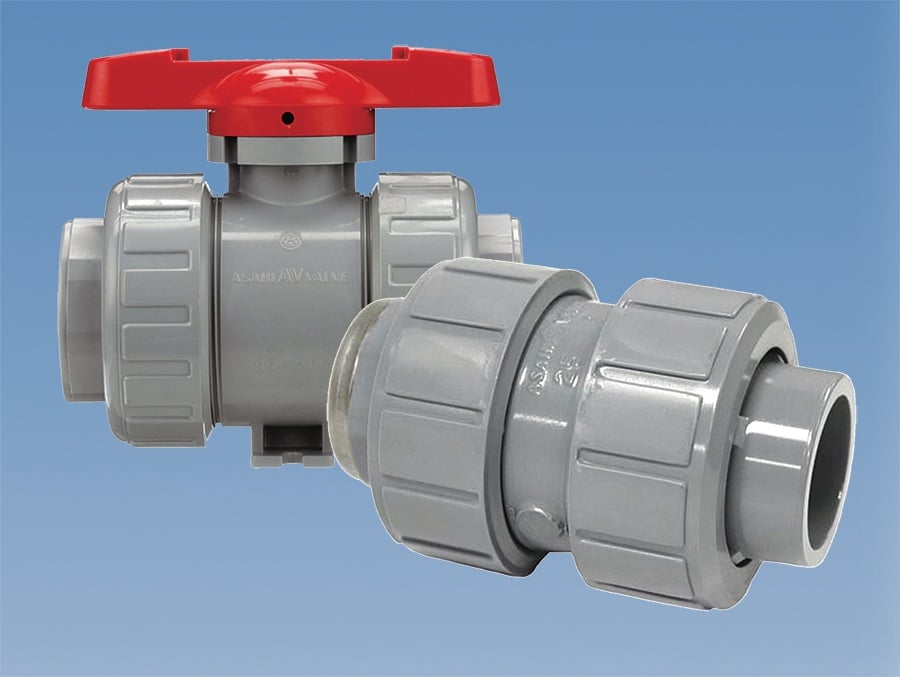 Type-21 ball valves with CPVC bodies and EPDM or FKM seats and seals, as well as ball check valves with CPVC bodies and EPDM or FKM seats and seals meet the requirements of NSF/ANSI/CAN Standard 61 – Drinking Water Components.
Available with socket, threaded, or flanged (ANSI) end connections, Asahi/America Type-21 ball valves are pressure rated up to 230psi and are full vacuum rated in all sizes. Double O-ring seals on the stem add protection, and a tapered O-ring groove helps keep end connector O-rings on the valve body during installation. With an integrally molded ISO mounting pad, Type-21 ball valves can be operated manually or actuated. An integrally molded base pad allows valves to be mounted securely or panel mounted. True union design allows for easier installation and repairs, without expanding the pipe system. The Type-21 ball valve blocks in two directions, upstream and downstream, which leaves full pressure on the opposite end of the valve.
Asahi/America ball check valves are true union in sizes 1/2″ through 2″ and single union in 3″ through 4″. The solid thermoplastic ball is the only moving part, which unseats to permit flow in one direction, but seals against the seat to prevent backflow. Ball check valves may be used vertically or horizontally, have a minimum shut-off of 5psi, and all sizes rated for full vacuum service.
About Asahi
Asahi/America is the premier manufacturer and supplier of thermoplastic fluid flow and air handling solutions for industrial, environmental, high purity and commercial applications. Asahi's piping systems, valves and actuators have been installed with confidence for over 40 years in a variety of industries including aquariums, ship building, and water and wastewater treatment.
The company maintains machine and assembly shops in its Massachusetts headquarters, as well as an extensive custom fabrication department in Louisiana. The Asahi/America staff is here to support you through every step of your project, offering engineering support, on-site consultation, supervision and training. From concept to completion, we're Your Experts in Plastics™.