BuTech, a leading manufacturer of high-pressure valves, has tested and qualified its subsea ball valves in accordance with the highest safety and performance standards in subsea specifications. The API 6A and 17D specifications are two of the highest measurements of performance a valve can meet and it's the standard of quality and reliability for critical subsea wellhead equipment. BuTech's subsea valves met these standards and even exceeded them in some areas of qualification testing.
In subsea critical systems, nothing is more important than structural integrity to assure performance, safety, and reliability. The requirements for subsea equipment are similar to those for to aircraft components. BuTech subsea valves are designed to meet the critical requirements of today's most severe applications while ensuring the highest quality and most reliable performance for pressure control in the deepest water and harshest environments in the offshore oil and gas industry. As wells have become deeper pressures have increased. Because of this, BuTech continues to make design and performance improvements to meet these challenges.
"We tested our valves in accordance with API specifications 6A and 17D, and in some cases we even raised the bar for certain requirements," says Scott Reib, Global Product Manager at BuTech, a division of Ingersoll Rand that manufactures high-pressure valves and system components. For instance, the API specifications require 200 "pressure dump" cycles per side for lifecycle endurance testing. We tested the BuTech valves at 600 "pressure dump" cycles per side, in accordance with a customer requirement, delivering on the promise of long-lasting product life and reliability.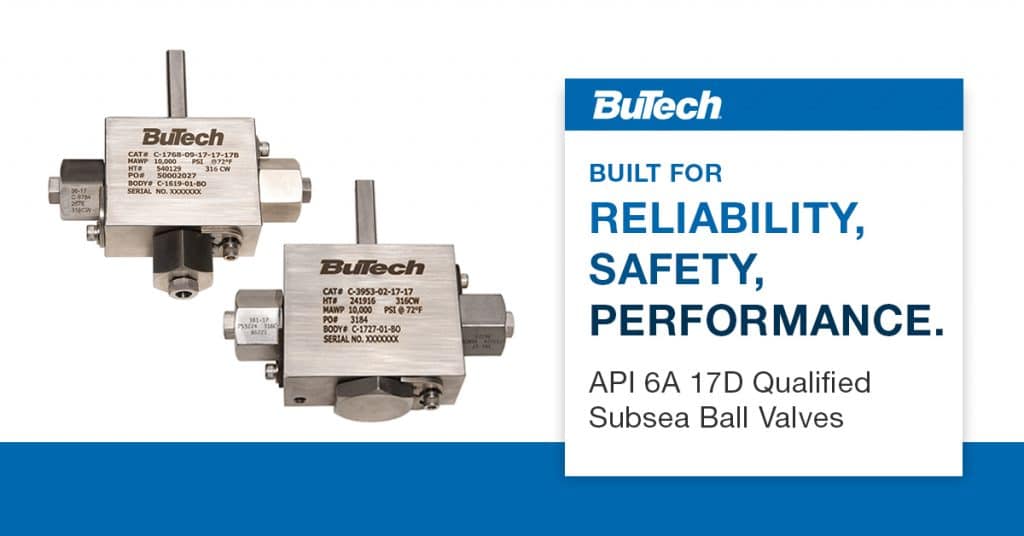 "In the case of our sub-sea ball valves, their performance went above and beyond the API specifications and proved peak performance operation in mission-critical applications," says Reib.
BuTech's subsea, needle, ball, and block and bleed valves are installed in some of the oil and gas industry's most challenging applications. From ball valves for onshore and topside applications to subsea valves performing in the harsh environments of the deepest offshore waters, BuTech leads the industry in performance, safety, and reliability.
About BuTech
BuTech was founded in 1973 with a commitment to quality, customer service, innovation and a goal to become the world's leading supplier of high-pressure system components. The organization has established a global distribution network and the most extensive and versatile product line available for pressures up to 150,000 PSI (10,340 bar). Maintaining ISO-9001 certification for guaranteed quality and reliability, BuTech is a leading supplier to the oil, natural gas, chemical and petrochemical industries, as well as aerospace, marine, government and niche industrial markets.
BuTech continuously meets and exceeds the evolving requirements of highly engineered technologies. System components are available in every machinable alloy to handle pressures from vacuum to 150,000 PSI (10,000 bar) and temperatures from -423°F (-253°C) to over 1200°F (649°C). Any extreme application of erosive or corrosive solids, liquids or gases is where BuTech products feel right at home.
About Ingersoll Rand Inc.
Ingersoll Rand Inc. (NYSE:IR) is a company motivated by a business approach and partner vision, and is committed to helping make your life easier. We offer energy, medical and specialty vehicle products and services that are innovative and critical to operations across more than 40 respected brands, which are designed to deliver outstanding performance even in the most complex and demanding conditions where downtime is particularly costly. Our employees build lifelong relationships with our customers by providing proven experience and improvements in productivity and efficiency. For more information, visit www.IRCO.com.