Offering high-performance motion control in the challenging environments of oil, gas, printing, and paint finishing applications, the HX56-100 Hazardous Location Stepper Motor features:
ATEX and IECEx certifications for Class 1, Zone 1 locations
UL-Listed for Class 1, Division 1, Group C and D locations
Type 4X and IP66 rated enclosure
Class I hazardous locations are areas where flammable gases, vapors or liquids are, or may be, present in the air in quantities sufficient to produce explosive or ignitable mixtures. Zone 1, also known as Division 1, defines a hazardous location in which flammable gases, vapors or liquids exist all of the time or some of the time under normal operating conditions.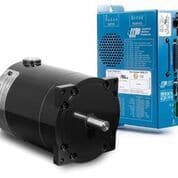 "The HX56-100 Hazardous Location Stepper Motor is the only step motor in the world certified internationally by UL, ATEX, and IECEx," notes Jason Jones, Regional Sales Manager, Applied Motion Products. "By providing a best-in-class solution for motion control applications in hazardous locations worldwide, the HX56-100 Stepper Motor minimizes the cost and time involved with gaining regulatory compliance for an OEM's complete system."
The HX56-100 Stepper Motor is specifically designed for use with the STAC6-Q-H Stepper Drive, the first and only step motor drive internationally certified for use in hazardous locations. The STAC6-Q-H features an advanced anti-resonance algorithm that ensures optimal torque performance from the HX56-100 over a wide speed range. Microstepping ensures smooth, high resolution positioning.
The drive is capable of running stored programs created with Applied Motion's Q programming language, and has sufficient input/output signals to connect to multiple external devices or sensors.