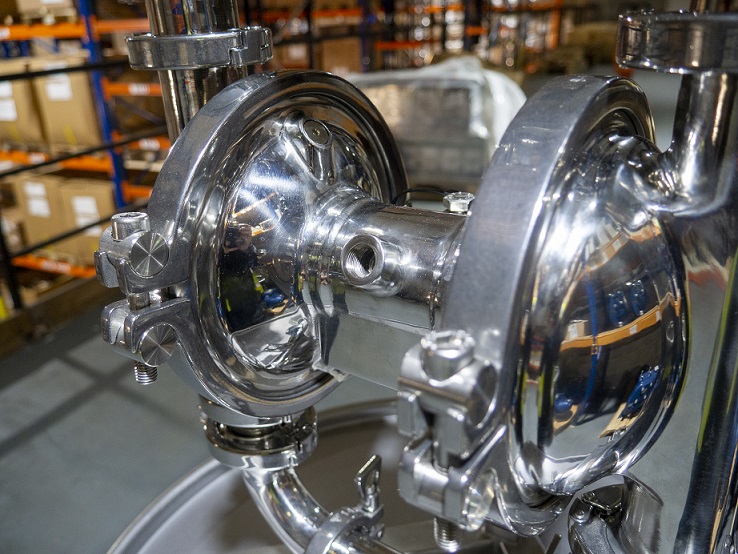 Cleaning in Place (CIP) is an essential step in maintaining plant hygiene. CIP cleaning is mostly performed utilising caustic washes at high temperatures using a dedicated CIP pump via dedicated ports, however at times due to the design of process equipment a spray ball may be required.
Spray balls are a type of cleaning nozzle used for the cleaning of vessels, tanks or containers at pressure where cleaning fluids would otherwise have difficulty penetrating. Spray ball's are designed with a series of holes around the periphery where high pressure fluid is pumped at low flows and high pressure creating jets of fluid to thoroughly clean difficult to access process equipment.
A pharmaceutical machinery manufacturer contacted us who were looking to pump a wide range of cleaning solvents used for CIP cleaning of mechanical equipment. The solvents ranged in concentration and consisted of Acetone, Ethanol, Methanol, N-heptane, to Toluene, and Dichloromethane – chemicals known for their flammability, hazardous and carcinogenic nature.
Our customer wanted a single self priming pump which could draw the heated chemicals at temperature from a tank to transfer chemicals at up to 6 bar via a spraying element to effectively clean equipment.
North Ridge Pumps supplied their recently improved design of sanitary diaphragm pump – the Saniboxer 100 which has 5 features making its use ideal for such applications: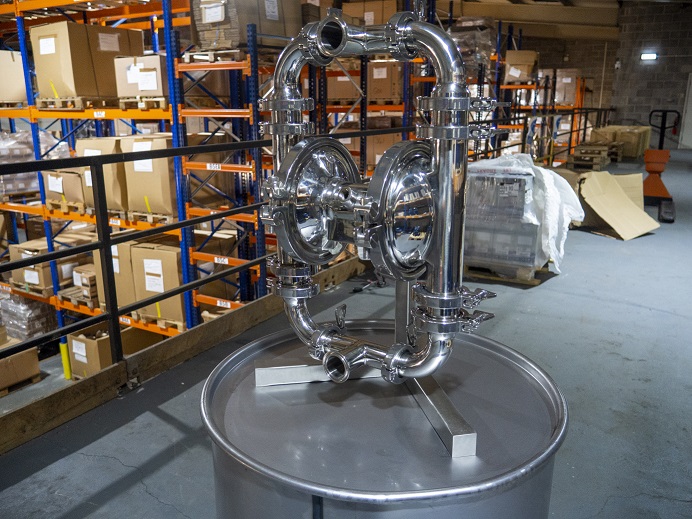 Leakage Sensor
Traditional diaphragm pumps do not have sensors should a diaphragm rupture or leak. Our improved design contains an optical leakage sensor to immediately detect leakage due to a ruptured diaphragm, ensuring the pump is stopped immediately with full containment of any leaked process liquid.
A leakage sensor ensures that the highest safety standards remain in place in applications handling flammable, corrosive, or carcinogenic materials limiting and preventing exposure both to humans and the environment.
Also as our design of pump works with non lubricated air, should any liquid come into contact with the air side of a diaphragm, you can remain assured the liquid will remain free from contamination as it will not encounter any oils, lubricating media or other contaminating media typically used in compressed air systems.
Easy Clean
With internal components polished to Ra<0.8 you can be certain that any pumped liquids will pass through the pump easily without sticking to components. Should contamination occur the pump can easily be effectively cleaned due to its highly polished internals and not only are ported connections in triclamp to ensure cleanliness, but the complete pump body is held together in sections connected via tri clamp connections to ensure quick disassembly for manual cleaning if required.
Furthermore the unit is mounted on a baseplate with swivel brackets to enable the pump to be emptied by rotating the pump upside down for complete emptying.
Fully Certified
The Saniboxer 100 is fully certified for use with chemicals in flammable atmospheres and for hygienic applications. Certified to ATEX for explosive atmospheres, and 3A, FDA and MOCA (EC1935/2004) and available with 3.1 Material certification ensures it satisfies the most demanding of hygienic requirements.
Solid Handling
The internal design has been optimized for solid handling, with the internal ball valves being eccentric allowing the unit to handle large solids. A flap valve variant of this design enables solid handling without damage for materials up to 45mm in diameter, and 600mm in length.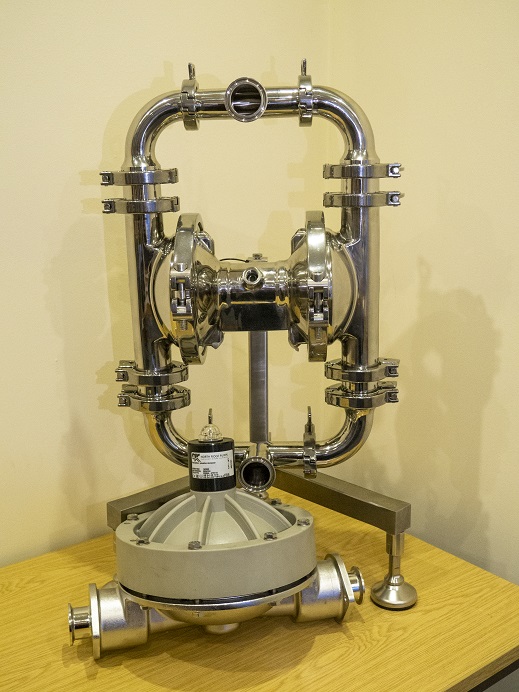 Fewer Parts than other designs
Due to its efficient design each pump contains fewer less than half the number of parts of other designs, meaning units can be overhauled up to 50% quicker than other designs. With a diaphragm lifespan of over 50,000,000 cycles and zero lubrication required, the pumps are truly engineered beyond limits.
To ensure a consistent delivery pressure to the spray ball the pump was supplied with a hygienic pulsation dampener which reduces pulsating flow by up to 98% ensuring the customer received a constant pressurised flow.
This article is published by
North Ridge Pumps are a manufacturer and distributor of a wide range of pumps to cover most applications. Our ranges include; centrifugal, multistage, vane, peristaltic, screw, gear, air operated diaphragm, vertical immersion, submersible, barrel, flexible impeller and side channel. Our pumps are available in cast iron, stainless steel 304, stainless ...