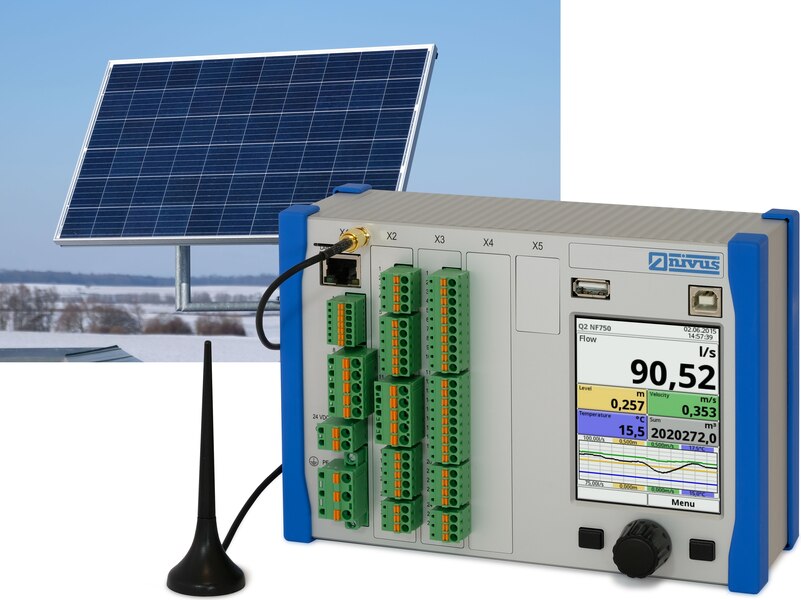 With immediate effect, the manufacturer is equipping the NivuFlow series units with the option of cycle or interval operation.
This allows a large part of the energy consumption to be reduced compared to continuous operation. Operators of permanently operated measurement places without a connection to mains power benefit from the option of energy-saving operation, as the self-sufficient power supply can be made significantly smaller in terms of dimensioning and effort. With a measurement interval of 15 minutes, more than 90% of the energy is saved compared to continuous measurement. This makes solar cells or wind generators and buffer batteries smaller in size and also suitable as an energy source for flow measurements in Europe. In the case of using fuel cells, maintenance trips for refuelling are reduced to one tenth compared to continuous operation.
In conjunction with the integrated NIVUS Connectivity, which the devices provide on request, the operator can conveniently call up the measurement data from the workplace or on the road at any time. This reduces journeys to the measuring point to a minimum.
For special events, e.g. when a certain level is exceeded, the measurement system switches to event operation. This allows shorter individually adjustable measuring cycles or continuous operation. The operator thus has the possibility to generate high-resolution measurement data in case of critical events. This provides a reliable database for measurement data analysis.
For older devices of the NivuFlow series, the manufacturer also offers the option of interval operation by means of a firmware update. The recently introduced measurement system NivuParQ 850 for TSS-equivalent will also be equipped with the option of cycle operation in the future.
Typical applications are self-sufficient flow measurements for rainwater overflows, transfer measuring points in the sewer network, measurements in rivers and irrigation systems.
This article is published by
The NIVUS group is a leading developer, manufacturer and supplier of measurement instrumentation and process control systems for the water industry. The company for over 50 years provides level and flow metering systems and continuously develops application oriented measurement solutions. Moreover, the manufacturer for approx. 20 years provides ...