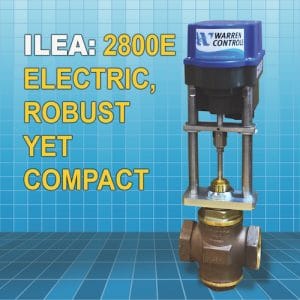 The 2800E series has a high quality, modulating, linear globe control valve with industrial electric actuator, featuring rugged bronze ANSI 250 Lb. or stainless-steel ANSI 300 Lb. bodies with NPT Ends and a variety of trim materials and port sizes. The equal percentage, linear and low-flow characteristic trim choices in both 2-way and 3-way configurations provide excellent modulating control of a wide variety of fluids for pressure, temperature, level, and flow applications from -20 to 500 F.
The Series 2800E is ideally suited where value and long life are important objectives for applications including but not limited to the chemical, district energy, food and beverage, general service, refining, and pharmaceutical industries.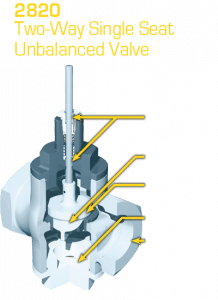 The 2-way valves for control of liquids, gasses and steam are the most commonly applied solution with ANSI Class IV and VI leakage rates. The 3-way valves for control of liquids have two inlets and one outlet and provide the simplest solution for mixing or bypass applications with an ANSI Class IV leakage rate, while the diverting valve offers one inlet and two outlets with ANSI Class II leakage rate. Available in sizes from ½" to 2", with Cv's from 0.25 to 40.