The FLUXUS® F/G706 combines high precision with the advantages of non-inva¬sive ultrasonic flow measurement.
With its 4 beams, in reflect mode providing 8 paths through the fluid, the meter averages the result of up to 4 planes. This arrangement averages-out cross-flow and achieves the optimum non-invasive compensation for disturbed flow profiles. On longer straight runs the 4-Beam meter achieves outstanding accuracy performance due to the individually averaged path effects and can thus be used for control and redundancy measurements of custody transfer meters or for usage in protective systems for leakage detection.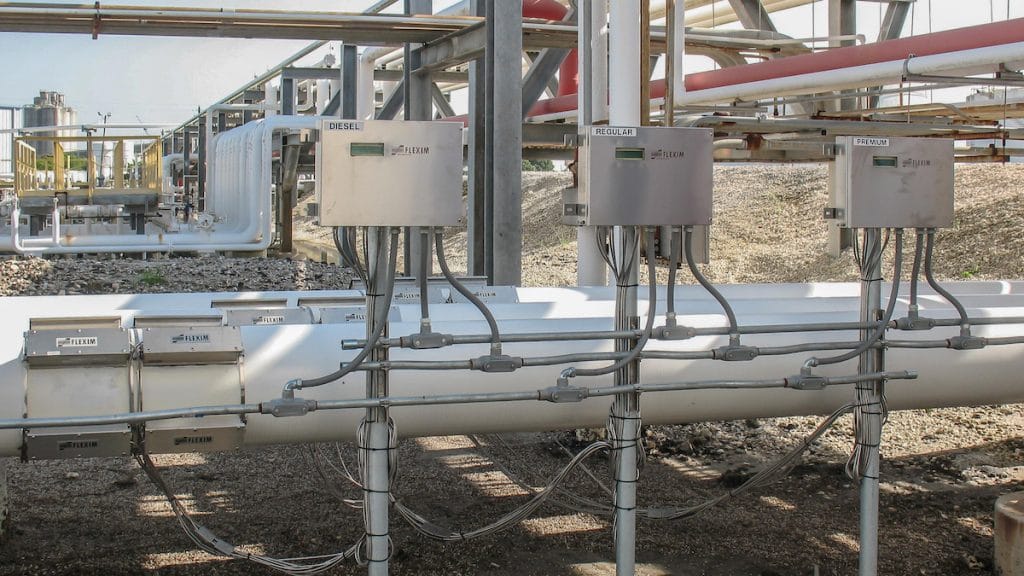 Easy installation without process outages
When creating a new flow measurement point, a significant part of the costs are incurred by the installation work (line shut-down, pipe cutting, pipe flushing, etc.). These costs are significantly reduced using the F/G706 clamp-on techno­logy that requires zero impact on pipe integrity while commissioning.
Leading clamp-on ultrasonic flow measurement
Temperature compensated transducers, unique digital signal processing with superior noise suppression, combined with a highly rugged design, results in an unrivalled degree of reliability, durability and accuracy – ensuring perfect operation of the system under the harshest field conditions and makes it even suitable for buried or flooded installations (IP68 rated).
FLEXIM's transducers are carefully paired according to their individual properties. This process lays the foundation for superior accuracies over a wide temperature and application range. It also ensures a negligible zero offset and facilitates the measurement of very low flow rates. There is no need for zeroing, or programmed "automatic zero" workarounds
This article is published by
As the technological leader in the field of non-invasive ultrasonic flow measurement with ultrasound, FLEXIM continuously sets standards. Our clamp-on ultrasonic measurement systems FLUXUS measure virtually anything that flows, liquids as well as gases. Today, non-invasive, ultrasonic flow measurement is only an outsider measuring technique in the technical ...