You probably saw like us, as from the end of March, the hundreds of press articles and other information about the scourge of wipes and the increase of blockages, mainly due to the overconsumption of disinfectant wipes. This nuisance of wipes has existed for years, and all sanitation professionals can attest to that.
All over the world, the number of cloggings of traditional submersible pumps has increased, resulting in substantial additional costs for water agencies. But at SIDE Industrie, we haven't talked about it at all. Why? Simply because we do not have this problem of clogging with our DIP systems.
Indeed since June 2013, SIDE Industrie has designed and patented the DIPCut® impeller to avoid this: an all stainless steel conical Vortex impeller that becomes a "Shredder" when it changes the direction of rotation. Coupled to variable frequency drive and managed via the smart self-monitoring OmniDIP® system, this impeller changes its direction of rotation automatically. This happens when needed to cut snarled long fibrous materials and rags and then remove them, without losing its high hydraulic pumping efficiency.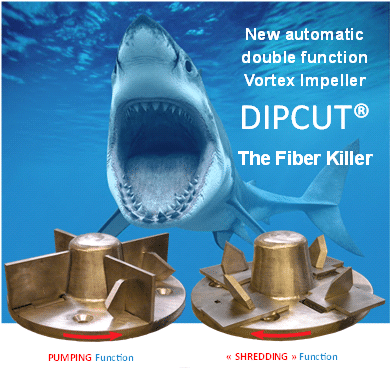 The DIPCut® makes it easier to respond to new pumping problems and avoid expensive and needless on-site technician transport costing time and money as well as CO2 emissions!