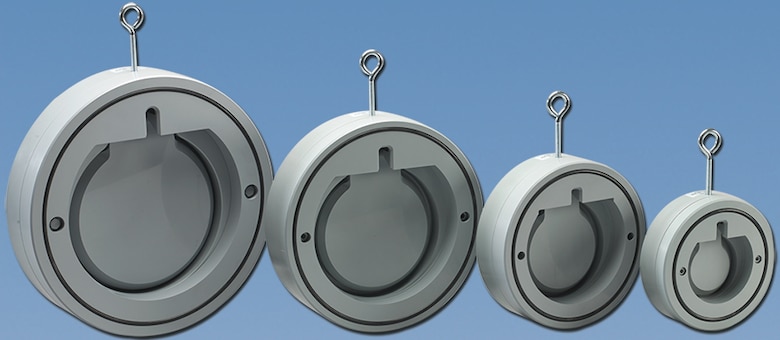 Asahi/America, Inc., the leader in thermoplastic fluid flow technologies, offers wafer check valves for installation on the discharge side of pumps in applications such as aquariums, water attractions, water treatment and municipalities to prevent back-flow flooding that could seriously damage pump systems.
Asahi's wafer check valve's body, disc and stopper assembly are machined from solid PVC plate stock, which conforms to ASTM D1784 Cell Classification 12454A. This material was selected based on its excellent chemical resistance and mechanical properties. The wafer check valves are machined, assembled and tested at Asahi/America's corporate headquarters in Lawrence, MA.
The wafer check valve conforms to ISO 5752 face-to-face dimensions and is easily installed by slip-fitting the valve between two mating flanges. The valve body automatically centers on the mating flanges, once the stud pack is installed. A directional flow arrow on the valve body indicates the upstream and downstream sides of the valve. The valve outside diameter can be machined to accommodate ANSI/DIN/JIS wafer style bolt patterns. The unique design of the disc and stopper permits the disc to fully open when the upstream flow is present, without interfering with schedule piping and mating flanges.
In vertical applications, minimal back pressure provides a positive shut-off tight seal. In horizontal applications, an ETFE-coated stainless steel spring pulls the disc back to the closed position, with minimal back pressure required to fully shut off. A high Cv value ensures that user flow rates will be achieved.
Asahi's wafer check valve is available in PVC, 3" through 12", with EPDM seals and no spring, standard. All 3" – 8" wafer check valves operate at a maximum pressure of 150psi; 10" and 12" at 90psi and up to 120oF. Optional seals in FKM and an ETFE-coated stainless steel spring round out the offering.
This article is published by
Asahi/America is the premier manufacturer and supplier of thermoplastic fluid flow and air handling solutions for industrial, environmental, high purity and commercial applications. Asahi's piping systems, valves and actuators have been installed with confidence for over 40 years in a variety of industries including water and wastewater treatment, ...