The new PMA series, thanks to its compact dimensions and low NPSH, provides an increasingly complete and competitive range suitable for every type of installation and application, up to 100 bar. Caprari is a global leader in the design and manufacture of centrifugal pumps and electric pumps, as well as advanced solutions for integrated water cycle management. With its continuous innovation, high-tech products, and reliable and flexible services, Caprari has succeeded in becoming a reference point for integrated water cycle management.
Why choose PMA?
The features that make these pumps unique include the design aimed at creating a high-performance, reliable and highly efficient product
1. PRESSURE UP TO 100 BAR
Impellers with axial thrust compensation system
High thickness of the castings and high-performance materials
2. SIGNIFICANT ENERGY SAVINGS
High-efficiency hydraulics: best in class performance
Performance ensured over the time: wear rings can be replaced
3. LOW INSTALLATION COSTS
Simplified installation: inlet opening is axial to the pipe
Easy pump-motor alignment: innovative motor casings
4. LOW NPSH VALUES
Reduced cavitation risk
Reliability of operation even in case of above head installation
5. SIMPLIFIED MAINTENANCE
Low maintenance: grease-lubricated delivery side bearing
Quick replacement of bushing and bearing bushing from the inlet opening
Over the years, many systems with PM pumps have been installed in various sectors. Among others, several PM pumps have been used for the new water supply system for hamlets in the former occupied territories in southern Lebanon. The Batouly system has 10 PM series pumps equipped with 250 kW motors.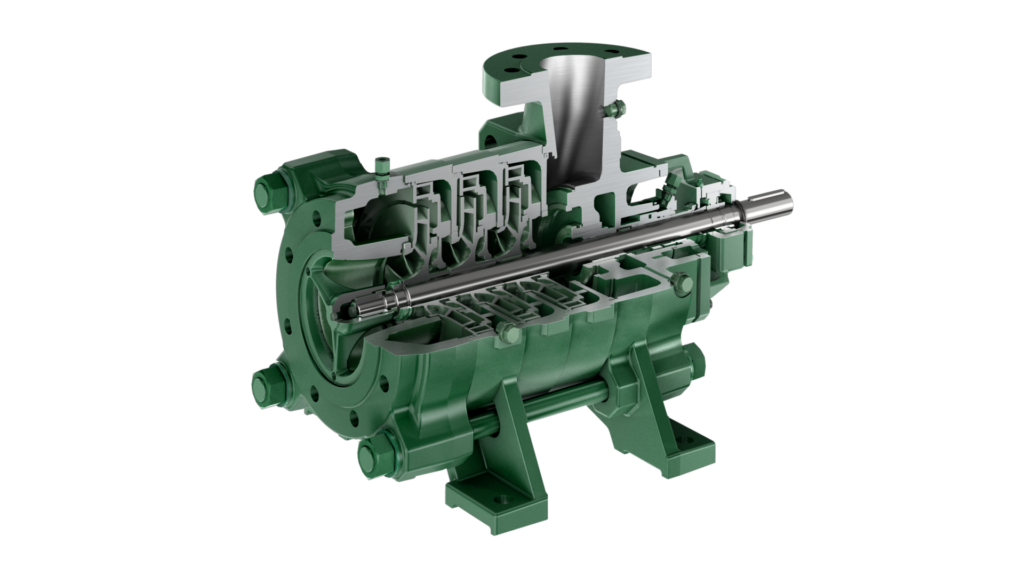 Numerous supplies were also carried out for the Industry: from the food industry – to which we supplied three units with base, complete with 200 kW motors – to the SAINT LOUIS sugar refinery in France. We supplied the PMXT version, i.e. pumps made entirely of stainless steel, to several chemical industries in South-east Asia: China, Mongolia, Vietnam and Thailand.
Finally, these pumps allow Caprari to provide tailor-made solutions for snow-making. For ski resorts that base their tourism on winter sports, but also for all companies that invest in snow-making know-how, Caprari has long presented itself as a certain point of reference, as a qualified supplier for what is one of the fundamental elements of snow-making systems: the pump. Thanks to its expertise and insight into the needs of operators in the sector, Caprari has received excellent feedback from the market, continuing its expansion and presence in the snow-making sector, supplying pumps throughout the Alps, in various Eastern European countries, in China and even in Dubai.
By providing global assistance and maintenance services, thanks to a capillary network of Service Centres, Caprari guarantees prompt and qualified service at all times and the immediate availability of any necessary spare parts.