Schubert & Salzer Control Systems now offers its customers the smallest sliding gate control valve with diaphragm actuator and integrated, digital positioner on the market.
Ingolstadt. – Vulcanising, sterilising, baking and drying – many industrial processes require a highly precise control of liquid, gaseous or vaporous media. The valve specialist, Schubert & Salzer Control Systems, has now developed a particularly compact, lightweight and energy-efficient solution for all areas of the process industry with its new type 8028 sliding gate valve. In addition, with a pneumatic 80-millimetre diaphragm actuator and digital positioner, the control valve is very fast, almost wear and maintenance-free as well as low-noise operation.
Thanks to its small size and a space-saving intermediate flange design, type 8028 scores highly especially when used in confined spaces. At a nominal size of DN100, for instance, the total dimension of the GS1 version is only 487 millimetres. The compact design also lowers energy consumption during operations and conserves resources in the manufacturing and logistics sectors.
Minimum control pressures, short actuator travels, longer lifetime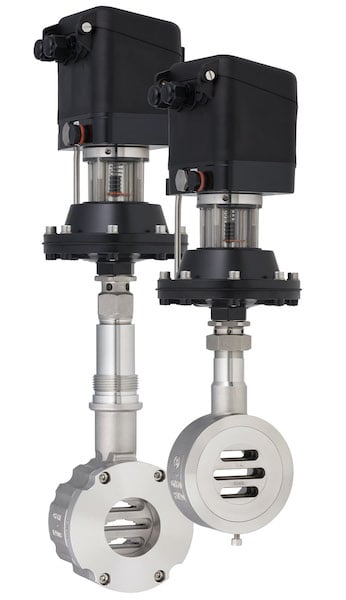 The sliding gate technology used in the type 8028 controls the flow in milliseconds, whereby two slotted discs arranged vertically to the direction of flow slide over each another in a linear movement. The actuator must therefore only overcome the sliding friction between both discs. The required actuating force is 90 per cent lower than for globe valves with the same nominal size at the same differential pressure.
Short actuator travels of just 6 to 9 millimetres also reduce the wear from the packing and drive of the control valve. Even when difficult media get stuck to the piston rod, the tightness remains permanently unimpaired because the piston rod barely moves into the packing. For the actuator diaphragm too, the short stroke and low control pressures mean much lower stress and hence a long service life with many million switch cycles.
Individual production with short delivery times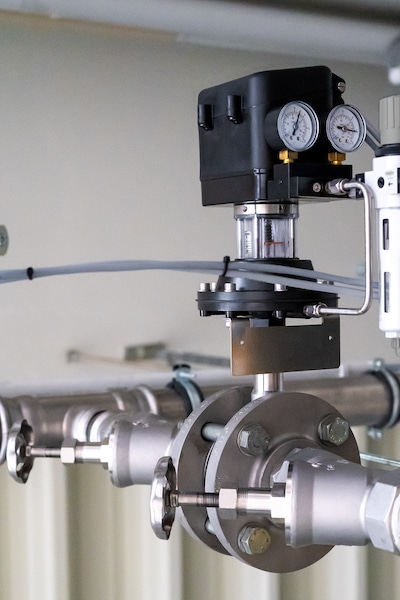 Schubert & Salzer Control Systems offers the type 8028 sliding gate valve in nominal sizes from 15 to 150 millimetres. It controls media with temperatures from -60 to 350 °C and can be used at ambient temperatures from -30 to 100 °C. The maximum operating pressure is up to 40 bar depending on the nominal size. The rangeability is 40:1 for linear and 80:1 for equal percentage flow.
All control valves made by Schubert & Salzer Control Systems are manufactured to order at the company's headquarters in Ingolstadt. The modular design of valves, actuators and positioners as well as a comprehensive, dynamically managed stock of primary materials ensure particularly quick delivery times.
This article is published by
As a fast growing high-tech company, Schubert & Salzer Control Systems GmbH develops, produces and distributes highly precise control and stop valves which are applied in the process industry. Whether it is in the production of chemical or pharmaceutical products, food and beverage processing or the production of plastics, steel, paper or glass, ...