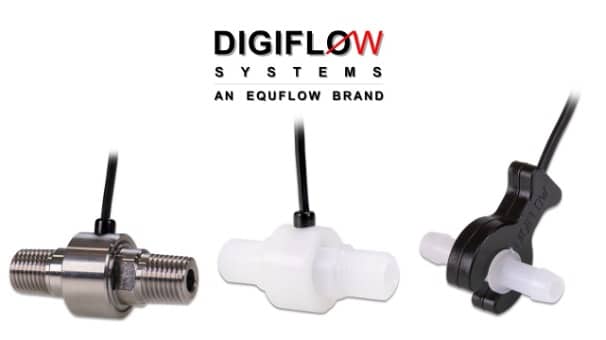 The Digiflow flowmeters have specifically been developed for use in wide range of applications, such as (fine) chemicals, industrial, water treatment, agriculture, food & beverages, paper processing and other end-user/OEM applications.
The transmission flowmeters come in different models which are suitable for single-use or long-term use. The flowmeter design enables it to be an integral component of systems designed for accurate monitoring or flow control of liquids.
Design Features:
Suitable for flows ranging from 0.07 – 25 L/min (.02 – 6.6 GPM)
Accuracy within 0.5%
Wetted surfaces and housing of high quality polymers
Low pressure drops
Ultra-low friction bearings yield long life
High chemical resistance
Turn down ratios of up 64:1
Infrared signal detection
Resolution of up to 65,000 pulses/L (227,100/gallon)
Digiflow has been a partner of Equflow for a long time. Adding Digiflow's products to our portfolio will enable us to even serve even more applications in your customer network.
This article is published by
Equflow has perfected the flow measurement of liquids. In ten years, the technology company located in the Dutch province Brabant has thus further developed its own invention into commercial solutions for various applications in which flow measurement is crucial. The modular sensor system with interchangeable components has been on the global market ...