Easy to Service: Diaphragm Gas Pump N 922
Owing to the long service life of stationary emission measurement systems, the ease of servicing built-in components is an important feature. The N 922 fulfills this need in every regard. The only parts which have to be replaced are the diaphragm and valves. This task must be performed once a year depending on how the pump is used. Maintenance work can be easily carried out even on assembled analytical systems using standard tools. Thanks to its robust design, there is no need to remove the pump for servicing, thus ensuring that the measurement technology remains ready for operation even under extreme conditions. Few replacement parts, long periods between required maintenance work and low costs for spare parts all add up to pleasingly low operating costs.
The N 922 gas sampling pump is chemically resistant, making it suitable for use with very aggressive gases. Since it is intended for use in gas analyzer systems, the diaphragm pump has been designed to be especially durable. Compared with the previous model (N 726 FTE), the more technologically advanced N 922 can operate at higher ambient temperatures of up to 60oC.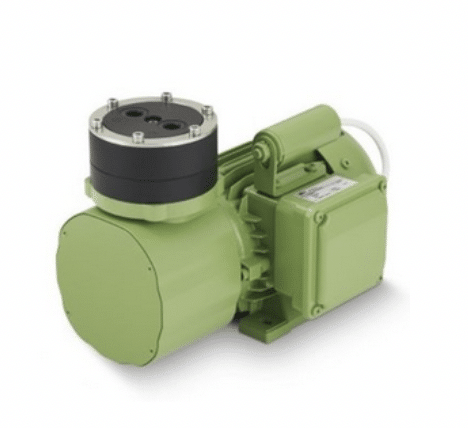 The pump has a flow rate of 16 l/min, which can be optionally adjusted using a bypass valve. It achieves an ultimate vacuum of at least 200 mbar abs and has an operating pressure of 2 bar.
An ATEX version of the pump is also available (pump unit: Ex II 2G c IIB + H2 T3 X, motor: Ex II 2G Ex de IIC T4), and can be used in ambient temperatures of up to 50°C. The motor is also approved in accordance with IECEx.
The compressor housing in both models can be moved in increments of 90 degrees separately from the motor in order to be positioned as required for condensate discharge.