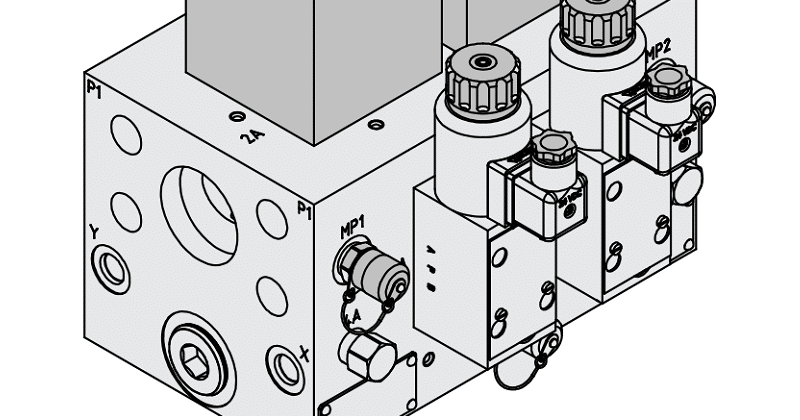 TROY, MI - ROSS Controls® introduces its new Hydraulic Block & Hold valve systems designed for external monitoring, up to Category-4, PL e for safety applications. ROSS, who is already known throughout the industry for reliable pneumatic safety-related valves and solutions, now expands upon these strengths to offer solutions for users of hydraulic systems.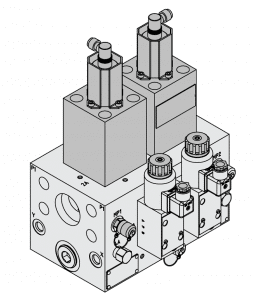 The ROSS Hydraulic Block & Hold Series feature a manifold base mounted design available in two body sizes D25 and D32, port sizes 1-1/2 and 2, Code 62 Flange. These valve systems feature a relief valve on inlet, and position sensors for external monitoring. The HBH Series valve system is enhanced with a tamper-resistant design that prevents unauthorized personnel from altering the valve.
The HBH Series valves are redundant blocking valve systems designed for critical applications where safe load holding is required for hydraulically controlled cylinders. The safety function of the Hydraulic Block & Hold Series valve system is to stop cylinder motion and hold the cylinder in position in the event of loss of supply pressure and/or electrical power.
The ROSS® HBH Series safety system is a redundant 3/2 normally closed function valve system, spool type design, solenoid pilot operated. This new system is designed for external monitoring for safe redundant operation and is equipped with position sensors for external monitoring by an electrical safety control system.
ROSS has always been at the forefront of pneumatic innovations and now gives customers even wider options with its hydraulic offerings and will continue to expand its hydraulic line of products.
For more information on ROSS® HBB Series hydraulic valve systems, contact your local ROSS distributor, ROSS' customer service or visit ROSS' website.
This article is published by
Headquartered in Troy, Michigan, ROSS Controls is an international manufacturer of pneumatic valves, controls systems, and safety products for the fluid power industry. Since being established in 1921, ROSS has always been one of the industry's strongest leaders in pneumatic valve technology. ROSS' focus is to continue to be a formidable competitor ...