With industrial valves, changes in tightness and closing force are inevitable during the operating process. The use of a valve diagnosis system for machines and plants avoids failures and makes necessary maintenance work easier to plan. WESA-Control GmbH shows how it is done.
WESA-Control GmbH is an innovative company that focuses on industrial automation in the field of mechanical and installation technology. Their core activity is the sensor technology of industrial valves. WESA-Control GmbH is developing new measuring methods for this, with which the valves can be tested in the installed state, the so-called operating state.
Why?
During the operating process there are unavoidable changes in the tightness and closing force of the valves. Under certain circumstances, these can disrupt ongoing processes. Therefore, a continuous valve diagnosis, e.g. a must for every operator in chemical plants and power stations. By measuring and recording changes, malfunctions are prevented in time and necessary maintenance work can be planned better. The current measurement results can be used for economic, safety-related and functional decisions. This test method is still unique.
Who benefits from the recorded data?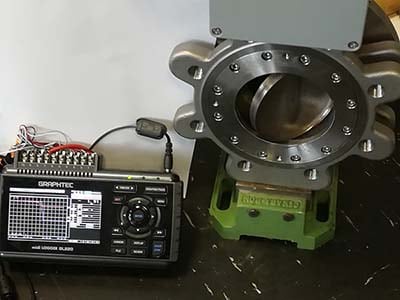 The operator of the installation benefits from the registration and evaluation of the measured data, because he always has an overview of the changes to his valve. The measurements are just as important for maintenance and repair departments. The torque must, for example, be known when installing dampers. However, errors often occur here, which can be avoided by measuring the torque-measuring coupling and the use of a data logger. Diagnostics is also suitable for test benches on which actuators and valves are tested. Manufacturers of valves or repair shops can also use the measurement results as proof of quality.
The different properties of the valves can be stored in a database. This is a major advantage for further service and maintenance work
What does the GL220/240 data logger do?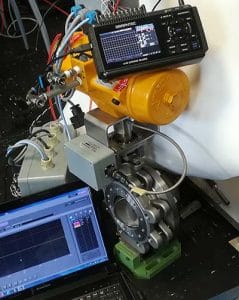 Various measuring methods and models have been tested for valve diagnostics by WESA-Control. The choice of the right data logger fell on the GRAPHTEC midi Logger GL220 (follow-up model: GL240) from Althen. The extreme versatility regarding the recording of measured values and range settings was very helpful for the development work at WESA-Control. The recording possibilities, evaluation and individual measurement results very quickly confirmed the success of the designs. The space-saving device can also be operated with a rechargeable lithium-ion battery and thus offers a variety of possibilities for mobile use.
Due to the broad application of the measuring ranges in the data logger, lift and control valves can also be excellently measured and evaluated. Thanks to the positive experience values, the GL220/240 from Althen has been used since then by WESA-Control for valve diagnostics.
The current follow-up model of the GRAPHTEC midi Logger GL220 is the GRAPHTEC GL240.