Fluids with the following specifications are often treated:
extreme pH balances, both low and high
high density and viscosity
high concentration of suspended solids and abrasiveness
presence of debris of a size that cannot be overlooked
presence of solid filaments
Debem has been working in this field for more than thirty years and has acquired a wealth of experience in this sector which is reflected in the design of pumps ideal for usage.
Which pumps does Debem recommend?
CENTRIFUGAL PUMPS (MB, DM and IM Series)
The fluid needs to be cleaned well to use these kinds of pumps.
Proposals in polypropylene and PVDF have nothing to fear from acidic or basic environments.
AODD PUMPS
The way they function allows for an all-round usage in this sector.
Acidic or basic corrosive fluids
Debem recommends plastic materials such as polypropylene and PVDF or metallic ones like aluminium or AISI 316L stainless steel, thus covering all the different kinds of applications.
The internal parts in contact with the fluid (membrane, balls, ball seats and O-rings) can then be configured in a vast range of these and other materials.
Viscous and high density fluids, start-ups from dry
The operating principle allows fluids whose viscosity and density by far surpass those of water, to be treated.
In practise, they are similar to plunger volumetric pumps.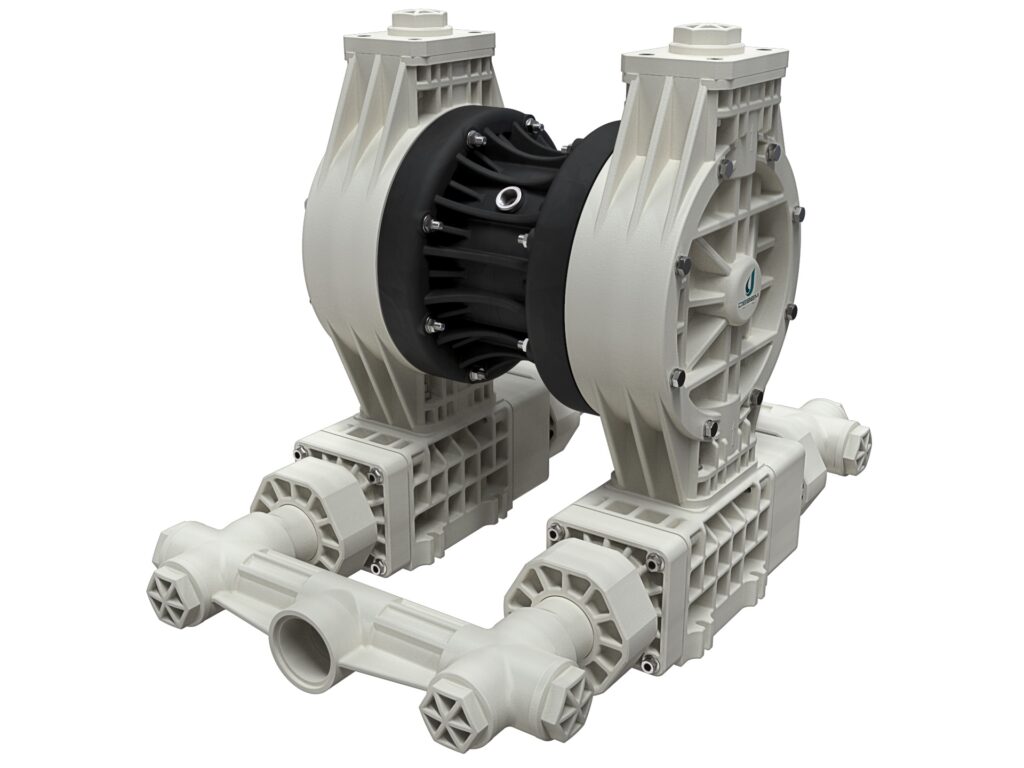 The positive side of these kind of pumps is their operating capacity even from dry: often when the pump and system are starting up, the pump needs to be triggered by an empty suction hose; this is not a problem and the considerable effort of the membrane is alleviated by the "Long-Life" Debem profile.
Fluids with a high concentration of suspended solids
Debem offers the possibility of configuring AODD pumps to provide particular resistance to abrasion, thanks to the variety of materials it makes use of.
Fluids with debris and filaments
The intrinsic function of the AODD pumps allows for fluids with suspended solids to be transferred: the balls with their alternating movement, leave room for solids whose size depends solely on the dimension of the pump in question.
Generally, this involves small-large sizes which allow solids to pass with an average diameter ranging between 4 and 10 mm.
On the subject of this, in 2018, Debem developed a new AODD pump model whose main circuit made up of ball seats, balls and cages is replaced by a flap circuit (with flap valves) placed horizontally.
This is a new concept for an AODD Pump, it's name is FullFlow.