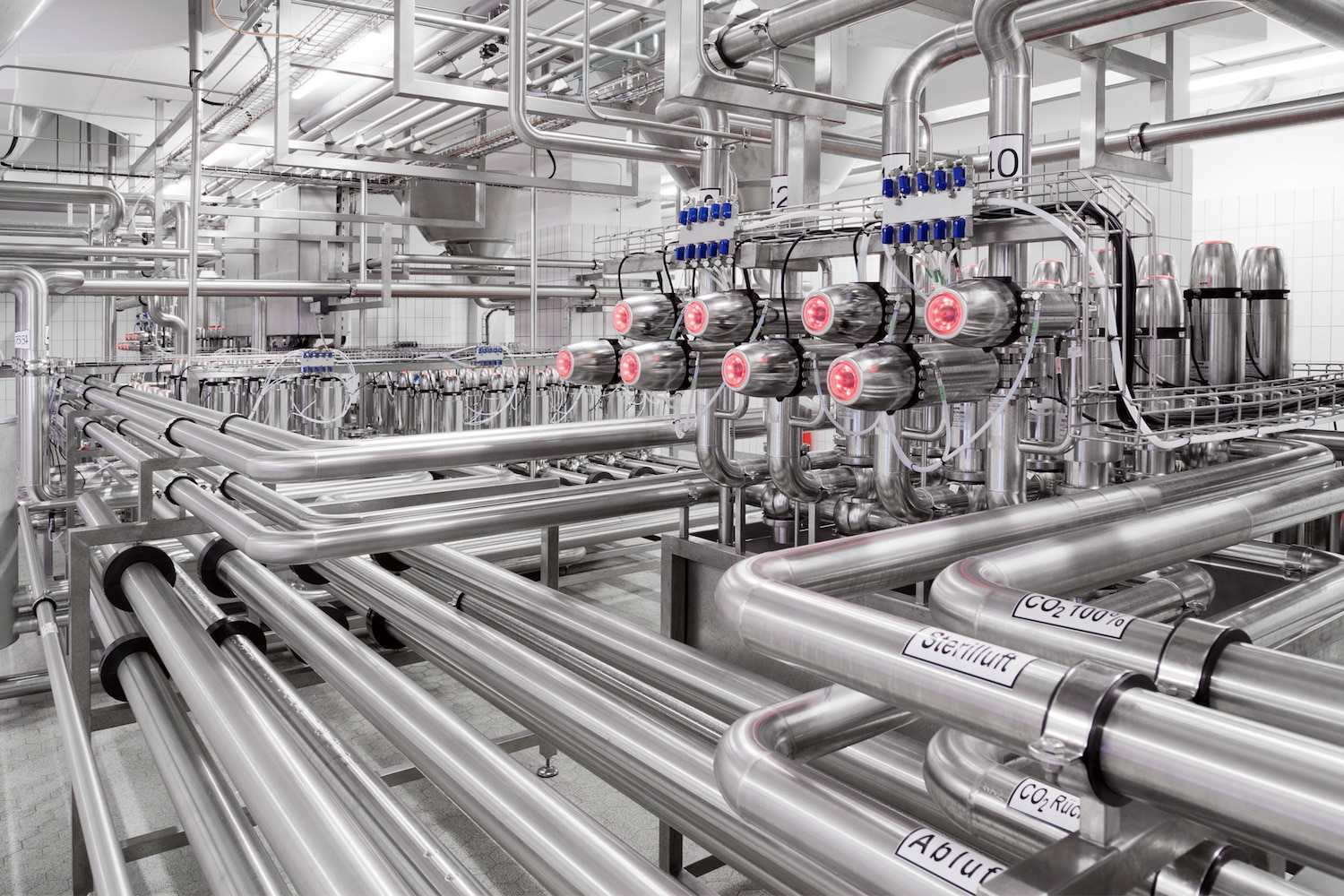 Connections for pneumatic control lines to valves in food, beverage, chemical and pharmaceutical plants are exposed to very high loads; in addition to functionality, ease of installation and dependability, the materials used for the connections must be as durable as the valves themselves. Series 17 of the Eisele INOXLINE features impressive quality and workmanship. These stainless steel push-in connectors provide a lasting and reliable seal even in humid environments. The material also features good hygienic properties.
Kieselmann GmbH, located in the city of Knittlingen in Baden-Württemberg, is a leading manufacturer of stainless steel valves, automated valve manifolds and end-to-end systems for the processing industry. The company develops and produces all stainless steel components at the home location. Kieselmann assembles the pneumatic installations and air tubes either in the factory or at the customer's facilities. Paul Kieselmann laid the foundation stone for the present-day Kieselmann Fluid Process Group in 1937 with a job order turning shop, which soon afterwards offered its own valve products. Today, Kieselmann products and services are marketed worldwide by subsidiaries in Russia and China, as well as 25 sales agencies. Kieselmann stands for high-quality fluid technology – components and systems that enable the control, manipulation and production of liquid to highly viscous media. The company breaks down into the following divisions: beverage pipelines, components and valve technology, plant construction, and special plant construction for the pharmaceutical industry and biotechnology.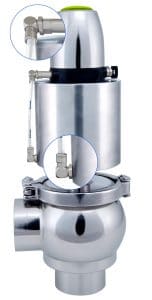 Premium seat valves for process industry
In addition to butterfly valves and ball valves, Kieselmann also produces single- and double-seat valves for automated processes. The pneumatically operated single- and double-seat valves feature high operational reliability and low operating and maintenance costs. They are switched by means of an electronic control head, which controls and signals the diverse functions via pilot valves. The compact single-seat valves are used for the universal shut-off of branched pipelines. One can choose from three pneumatic drives with power capacities for different applications. Retrofitting to a more powerful drive is possible without the use of adapters. The valve function is defined by the mounting direction of the drives, and can be changed at a later time. Kieselmann double-seat valves, developed in accordance with the EHEDG criteria, are among the most modern leak-proof valves on the market. They are used for absolutely reliable separation of incompatible products in automated processing systems. When the valve is closed, two independent valve disks with pressureless leakage draining reliably prevent mixing of the media. The leakage chamber can be cleaned by raising the upper valve disk or lowering the bottom disk. In the event of a faulty seal, the process medium exits the valve without pressure.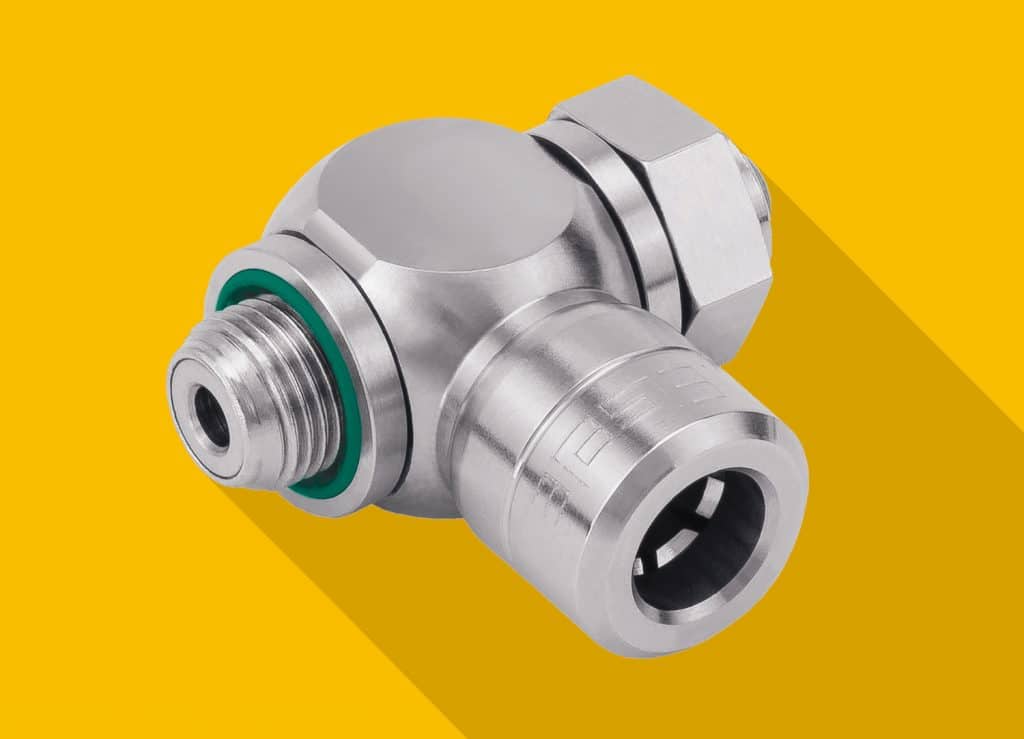 High-quality, leak-proof pneumatic connectors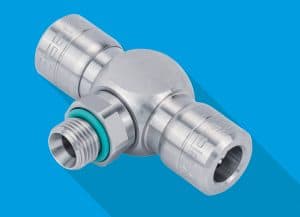 Since 2015 Kieselmann has been using push-in connectors from Eisele for the compressed air supply of the pneumatically operated valves. They have the same uncompromising quality as the valves, in addition to an excellent cost-effectiveness ratio. The thread distance is perfect for the electric control heads of the Kieselmann valves, due to the requirement for the installed compressed air tubes to have as few bends as possible, with no kinking. That is why Kieselmann equips its valves with straight threaded connectors with an outer or inner hex socket, double T-shaped connectors and swivel elbow threaded connectors from Series 17 of the Eisele INOXLINE. Manufactured from stainless steel, they fulfil the conditions for use in wet areas of food and beverage, chemical and pharmaceutical production plants, and can be used both in a vacuum of -0.95 bar and at pressures up to 16 bar to provide a lasting seal with no leaks. This is made possible by the reliable design and particularly durable, high-quality seal materials. Connectors of the 17A series with two seals on the tube side are used for applications with higher pressure requirements. Single swivel connector with throttle check valve are also used.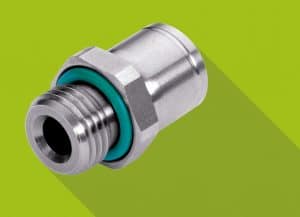 A suitable solution for every application
The general purpose stainless steel connectors from Eisele enable fast connecting and disconnecting of compressed air tubes without the use of tools. The tube only has to be pushed to the stop in the release sleeve of the push-in connector and the patented collet inside the connector holds the tube in its position for a lasting, reliable connection with no damage to the tube. The integrated O-ring of FKM (Viton) ensures a tight seal. One flick of the wrist on the release sleeve is all it takes to disconnect the tube. The screw-in end for mounting the push-in connector on the machine or process valve is sealed with an enclosed O-ring. Series 17 components allow the full flow rate inside the tube despite their compact design.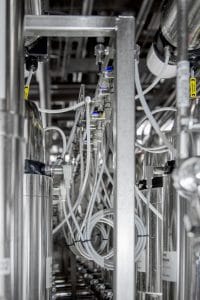 Guaranteed hygiene and durability
Even if the components do not come into direct contact with food or beverages, they are often used in areas with stringent hygiene requirements. They can come into daily contact with splashing water and with chemicals used for cleaning the systems. They have to withstand constant temperature changes and the effects of acids, alkaline solutions and cleaners without corroding. Such effects would result in leaks, failures and consequently in contamination of the medium.
Series 17 of the Eisele INOXLINE is exactly the right choice for this requirement. The push-in connectors with a release sleeve and one seal from the Waiblingen-based company, which are available in numerous versions, are manufactured from non-corrosive and acid-resistant stainless steel 1.4301/07 and are designed to fulfil stringent requirements with respect to cleaning and corrosion resistance. With a temperature range from -20 to +120 °C the push-in connectors are ideal for use in diverse plant components. The more economically priced BASICLINE connectors of nickel-plated brass are used for applications with less stringent requirements for corrosion protection.
Solidly constructed and time-tested
Kieselmann uses elbow connectors and throttle valves from Eisele on the pneumatic valves. Due to their outstanding quality, not a single Eisele push-in connector has failed in operation so far. A valve installation is always a long-term investment, which remains in operation for up to 30 years. Of course, that means that accessory components such as pneumatic connectors have to be designed for maximum durability. In view of these considerations, plastic connectors have proven to be less than ideal, in the experience of the Kieselmann engineers. Because even high-quality plastics age under the influence of oxygen, chemicals, changing temperatures or UV radiation, so that they become brittle over time and can break as a result of minimal physical influences. To prevent unplanned downtimes, they would have to be replaced at regular intervals throughout the entire plant, which would involve high costs. With premium solid metal connectors from Eisele this problem is solved.
This article is published by
EISELE GmbH is a multinational family owned company with headquarters in Waiblingen, Germany. With 100 employees, Eisele develops, produces and distributes premium quality solid metal connectors and has become established over the past decades as a leading supplier of innovative connection solutions.