This group consisted of, among others, engineers in the field of hydraulic and mechanical pump applications, having all necessary knowledge and experience at hand. At Rodelta Pumps International, they were provided with the opportunities to build on this heritage, by bringing a very hands-on approach into practice, combining theoretical and practical knowledge and experience.
Thanks to its increasing range of recently developed pumps, Rodelta is quickly growing. The company is, for instance, currently designing prefabricated concrete volute pumps (CVP) for the power and irrigation market. In addition, a completely new horizontally overhung pump line has been developed to serve the process market. This HZC OH2 pump line is designed to be fully API 610 12th edition compliant (the API 610 12th edition has not yet been released; however, proposed change notes are available). The HZC is a fully coherent series of pumps, covering a range of flows and heads without leaving gaps.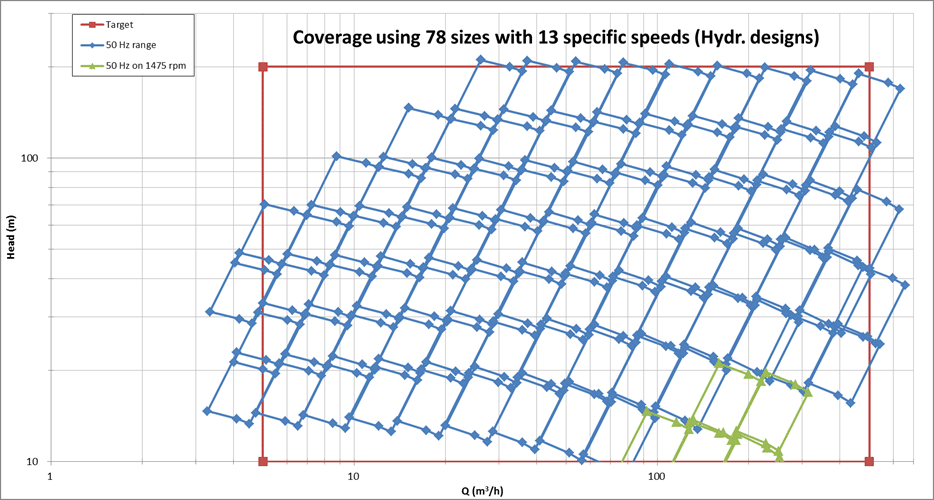 In this way, for every duty a pump selection can be made that complies to the API 610 requirements with respect to the rated flow being in the 80-110% range of the best efficiency flow rate. Also, the selections will have at least 10% head rise to shut-off (HRTSO) and stable head curves, as required by the API 610 for parallel operation. The diffuser design, as used in the HZC range, has the advantage over the volute design pumps that, for the target duties of the OH2 API market, 90% of the duties have higher efficiencies, up to 12% higher.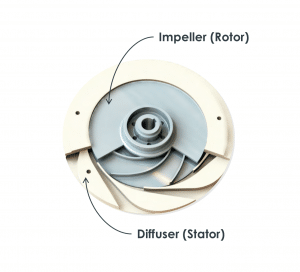 Furthermore, the multi-channel diffuser surrounding the impeller results in 5% higher HRTSO values, more than 50% reduction in radial thrust and 6dB lower noise levels.
The decreased vibration levels result in longer mean time between failure and main time between maintenance times and lower minimum continuous flows.
For each item, a custom diffuser design will be made to match the rated duty in which way the optimised performance of the pump will be guaranteed. The success of the design is delivered through a fast and automated design process and accurate geometry obtained from machining the diffuser vanes.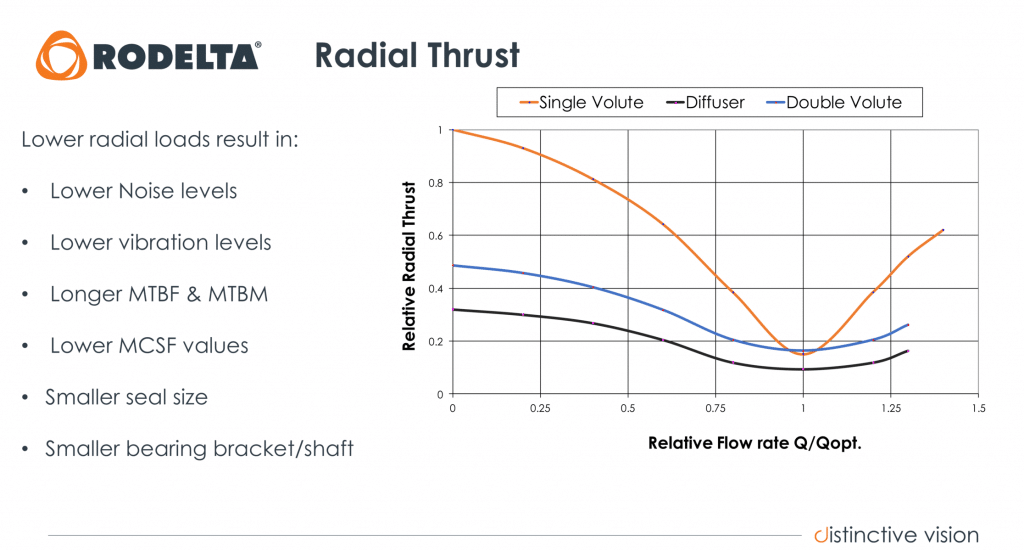 It is nice to see that nowadays, the most efficient solutions can be chosen for the process market. And this is only the beginning of what Rodelta wants to offer in the field of pumps. There are many more plans in the pipeline.